For the last six years, Canadian Men's Health Week has culminated on Father's Day, and 2020 is no different. The Canadian Men's Health Foundation is excited to invite one and all to join us in inspiring guys and their families to lead healthier lives from June 15 to 21.
Of course, there is one enormous difference this year: COVID-19. That's why we're celebrating the millions of dads across the country who are guiding their loved ones through the pandemic. Fatherhood for the win!
On that inspiring note, here are seven great ways to show your support and get involved in the seventh-annual Canadian Men's Health Week:
1. Check out Men's Health Week
There are so many great reasons to visit MensHealthFoundation.ca. Read inspiring health stories from real Canadian men covering everything from quitting smoking to eating healthier. Learn about our cause and donate to show your support. Meet Trevor Linden, Simon Whitfield, Carrie Campbell-Pascall, and the rest of our Champions. And last but not least, explore our unique health research that has made waves across academia and the media.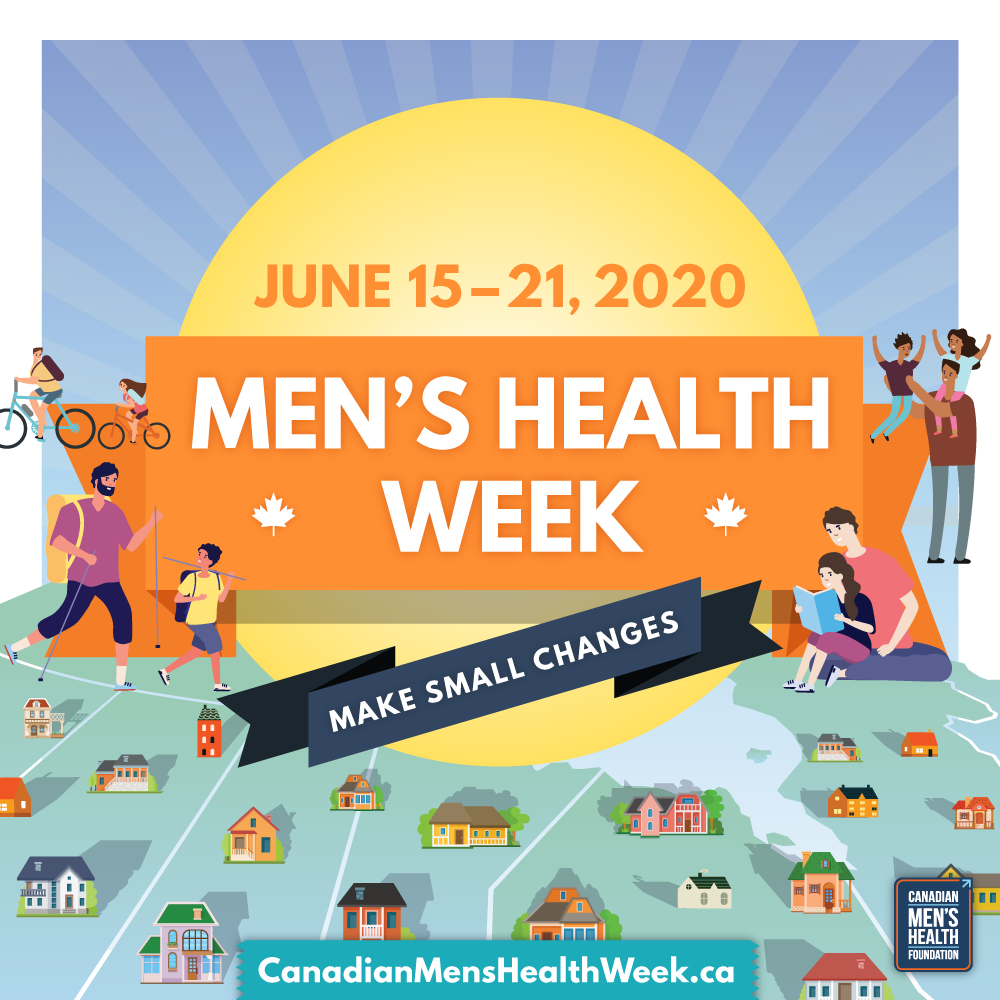 Speaking of research, the results of our recent national studies on COVID-19 and fatherhood have been released on June 16. After all, the healthy lifestyle habits and relationships we promote have been shown to have an enormously positive long-term impact on men, their families, and their communities.
2. Hug a dad
Yep! If your dad is in your COVID "bubble," then hug him. You may be surprised how long he wants the hug — if you don't let go first. Have some fun with it!
3. Donate for dad
Guys who engage with our programs eat healthier, exercise more, and live with lower levels of stress, to name just a few of the many health benefits. You can make a real difference by helping us support the men you care about by donating today.
Recognize your dad this Father's Day. Donate in his name by providing his email address, and we will send him a Father's Day eCard!
4. Share using #MensHealthWeek
Help spread the word about the importance and benefit of men's health improvements. Whether you tweet a blog post, share it on Facebook or Instagram, or chat about it with your dad on Zoom, showing guys how small health changes lead to big benefits is what we're all about. When sharing our messages, using #MensHealthWeek can only help them go viral (in a good way).
5. Blog about Men's Health
"As adults, we develop reasons why we can't do things: work deadlines, family responsibilities, or simply being tired," says CMHF Champion and Olympic gold medal-winning triathlete Simon Whitfield. We're much better off when we make time for fun things instead of only the serious stuff. Read Simon's "Life Hacks" blog, which focuses on work-life balance tips.
You don't have to swim, cycle and run 51.5 kilometres to offer insights like these. Blog about your own experiences with fatherhood and men's health, and give #MensHealthWeek a shout out along the way!
6. Work Men's Health into your newsletter
We could all use a little inspiration and motivation right about now, and health-focused content. It also delivers substantial ROI for your organization. According to a BC Healthy Living Alliance case study, a 225-employee organization reported a $250,000 savings in short-term disability after one year of implementing a workplace wellness program.
This year more than ever, Dads deserve kudos for supporting their families. Now it's time to return the favour!
7. Share easy health tips and tools with dads
With dads having been impacted by COVID in recent months, the easy health tips explored in our Don't Change Much blog posts couldn't come at a better time. By working just one into their daily routines, men can take small, incremental steps towards big health benefits. Check out these gems:
Finally, consider exercising with him! If you or your dad need a bit of inspiration, then check out these Top 5 Fitness Apps for Beginners.
Did we mention there's a great smoothie recipe, too?
How are you celebrating fatherhood during COVID-19 and Men's Health Week? Share your story in the comments section below.