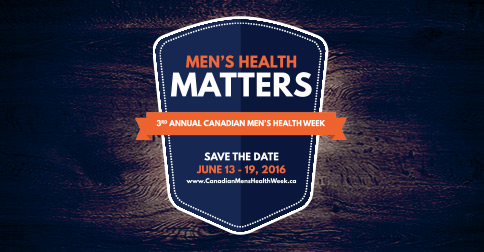 Canadian Men's Health Week, June 13th – 19th, 2016
A huge thank you to all the 1000's of people and organizations that contributed to the success of the 3rd Annual Canadian Men's Health Week.
The campaign is a nation-wide call to action to men, those who love them, those who employ them, and the government to rally together to improve men's health in Canada. The 3rd annual Canadian Men's Health Week was held June 13th to 19th, 2016. Learn more at: CanadianMensHealthWeek.ca.
Top 5 Reasons Why Men's Health Week Matters:
Men are the missing piece of the family health puzzle.
No one organization can solve the puzzle alone – collaboration is key.
Statistics prove men's health needs to change.
Men's health Week is growing around the world: Australia, New Zealand, Scotland, Ireland, Denmark, Britain, USA and now Canada.
Provides your organization with a directed communications strategy for men in the month of June, with a Father's Day tie-in.
Men's Health Week, June 15th – 21st, 2015
The second annual Canadian Men's Health Week ran from June 15th-21st. This first-ever digital campaign at http://canadianmenshealthweek.ca called on men to make a one-click health pledge. The campaign was a success with over 56,000 health pledges taken, and we all took a big step towards creating a social movement for men to live healthier, happier lives by embracing small changes.
CMHF also partnered with great organizations like Rexall and GiveGolf for Men's Health to provide an Ultimate Father's Day Getaway and $1000 Cash.
Men's Health Works, April 14th, 2015
Dr. Larry Goldenberg, Order of Canada recipient and founder of CMHF and Vancouver Prostate Centre, presented the keynote speech at a one-day workshop dedicated to research, programs and policies that improve physical and mental well being, and decrease the risk of chronic disease among men.
Following Dr. Goldenberg's keynote speech, Sr. Director of Digital Marketing at CMHF, Sam Omidi, lead an in-depth breakout session on digital marketing strategies of the latest game changing campaign by CMHF, Don't Change Much.
Hosted by The Cancer Prevention Centre (CCS-UBC) and the BC Healthy Living Alliance, this workshop brought together representatives for health and wellness in various male dominated industries and organizations throughout BC, including government reps, policy-makers and researchers. They will also be presenting their current project, a workplace wellness program for men in northern and remote regions and for First Nations communities.
The workshop took place on Tuesday, April 14th, 2015, at the Wosk Centre for Dialogue in Vancouver, BC.
Champions Breakfast, May 2014
Last May, we gathered some of our National Champions together over breakfast to talk men's health. With 3 Olympic medals, 2 Grey Cups, 20 years of NHL experience, and 20 years of culinary experience between them, it was, you know, just your typical Tuesday morning breakfast…
Stand Up for Men's Health, June 12th, 2014
Ever thought about stand up paddle boarding from Vancouver to Victoria? Ya, us neither, but our National Champion Simon Whitfield and 10 other athletes attempted just that. On June 12th, 2014, Simon and his group embarked on the epic 3-day journey in order to raise awareness for men's health.
Thanks to the support of Duracell, the group left from English Bay in Vancouver, crossed the Salish Sea and weaved their way through the gulf islands, dodging whales and seals along the way.
All went according to plan, through 100 miles of unpredictable conditions. In fact, the group arrived safely in Victoria a few hours early and just in time for Father's Day, June 15th, 2014, to celebrate their journey, and men everywhere.
For more information on Simon and the paddlers, check out the blog or posts on Twitter at #SUP4MH.
Supporters of Canadian Men's Health Week