Wed June 11th, 1pm-2pm
Come down and cheer on our athletes before they launch their boards!!
Join us on June 11th as we watch four time Olympic athlete Simon Whitfield and 10 more athletes depart from Vancouver to Victoria in a 140 km, 3 day paddle in support of men's health.
"Every year far too many Canadian men go missing from our daily lives, not because they die, but because they have become very unhealthy or sick," says Olympian Whitfield. "We want men to know they can change that by making small changes now."
The event powered by Duracell will take place during the first ever Canadian Men's Health Week from June 9th-15th– Father's Day.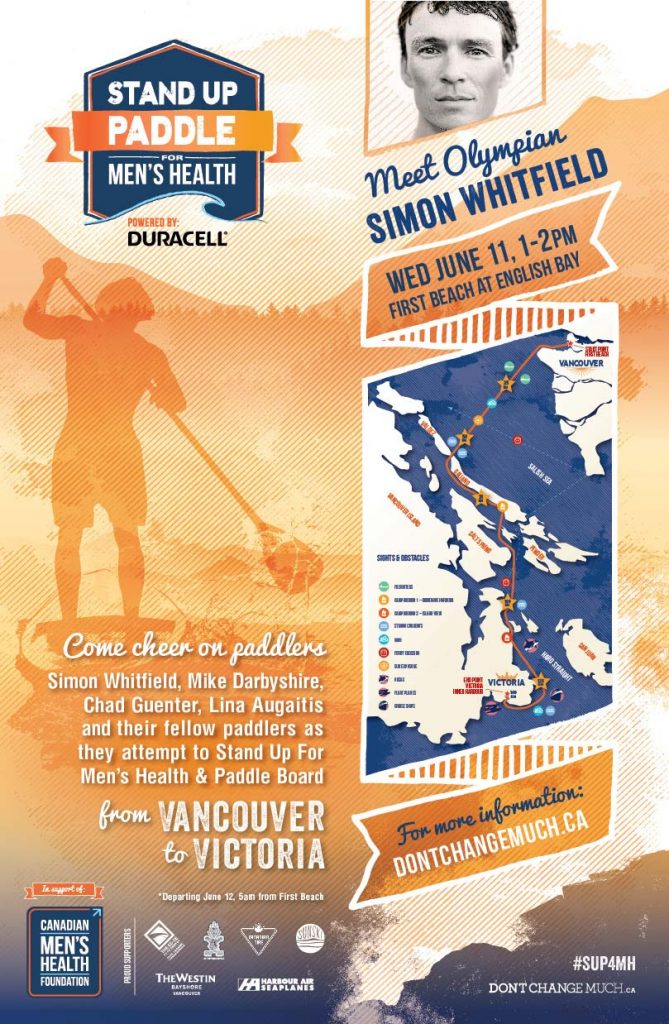 "I have always been driven by the relentless pursuit of excellence, so it's great to be partnering with Duracell again, who like me, recognizes the power to go further," says Whitfield. "Duracell also believes in the power of giving back, so it's fantastic to have them onboard supporting CMHF and the Stand Up Paddle For Men's Health."
Whitfield sees the Stand Up Paddle For Men's Health as a metaphor of how small steps can have a profound effect on people's lives. The paddlers will push the limits of endurance while exploring many aspects of men's health. "Obviously there is physical activity," says Whitfield. "Nutrition and sleep are important. Our mental state will be critical. We will need to ask for help, work together, find ways to deal with stress, fear, and exhaustion. The team will all need to pull together."
Media coverage
Elite athletes to paddle board from Vancouver to Victoria for men's health, Global News