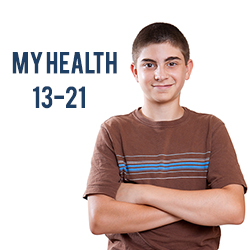 The adolescent years are an important time in men's lives.  These are the years when you're laying the foundation for your future.  The habits you develop in this period could last a lifetime, so it's a good idea to make sure they are positive and healthy!
Things to watch out for:
Depression, anxiety and stress
Self-harm and suicide
Violence (family, domestic, bullying)
Substance abuse (alcohol, drugs, tobacco)
Risk-taking behaviour (you aren't indestructible)
Motor-vehicle accidents
Workplace accidents
Sexually transmitted infections (STIs)
Testicular cancer
Male reproductive health (birth control & family planning)
Take control of your health.  Be proactive!
If you don't have a family doctor, then make the effort to find one. See your doctor once a year for a check-up. Be sure to speak up and tell your doctor about any concerns you have, whether they are physical, mental, or lifestyle-related. This way you can prevent many health problems, and treat illnesses at an early stage before they become more serious. If your doctor tells you that you have a condition or are at risk, don't ignore or procrastinate — deal with it head-on.  Men are natural problem-solvers… you need to apply this attitude to your health, too.  If your car needs a tune-up, you'd get one, right?  Treat your body the same way.
Don't hesitate to talk to your doctor about feeling depressed, anxious, or stressed. These conditions are common in men and treatment is highly effective. Mental health is just as important as physical health, so don't delay in seeking treatment.
Some things to consider:
A healthy lifestyle plays an important role in maintaining health and preventing disease.
Keep an eye on your weight, waist size and body mass index (BMI).
Exercise or play sports at least three times per week.
If you are dependent on cigarettes, drugs or alcohol, seek treatment to help you quit.
Learn how to manage your stress. Make time to relax and spend time doing activities that you enjoy.
Improve your diet by eating less salt and processed foods and more vegetables and fruits.
Make sure you get enough calcium and vitamin D through diet and supplements.